Quadrax 5
Quadrax V - Mayan Riddles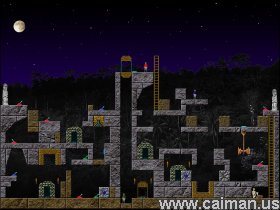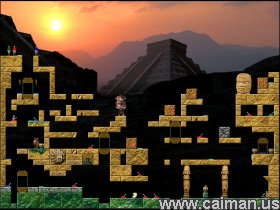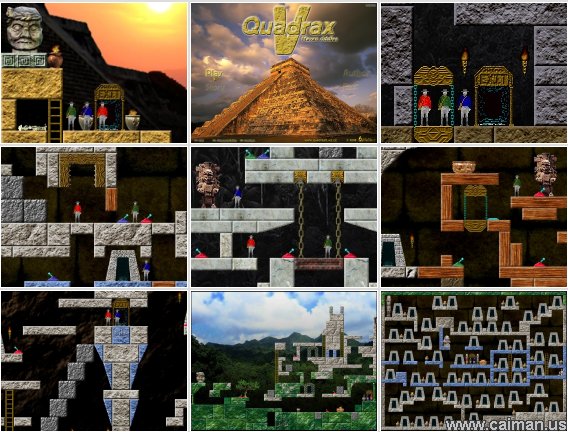 World's best puzzle game - 75 very hard levels.
The object is to lead the men by toggling switches, moving stones, opening doors, moving lifts and so on to the exit.
Quadrax 4 was great, but this version is even better, but much harder than all previous versions!
You can choose between Czech and English (press F2 in title screen). Improved graphics and very challenging new levels! Just don't forget: This is a very HARD puzzle game!
After every solved level you will get a password. Write it down!! You will need it when starting the game again. Also don't forget that the passwords are unique for your computer, so they will not work on other computers!
Editor: When completed all 75 levels you will get a password to start the level editor.
New features:
- There are levels with one, two or three men
- Shift push mode: When Shift push mode is activated then the men can only push stones while pressing Shift
- Teleporters for stones
- Green switches. You only can use them twice (blue switches only once)
- Big blocks. These are movable blocks of any format controlled by a switch. Important: When there is a stone or man on the big block, it won't move untill it becomes free.
- Crushable stones: When these stones fall they will crush and disappear. The same will happen when another stone fall on them.
- Extending ladders. These are in fact a kind of big blocks.
- A possible to save and load (F5/F9)
Controls:
Arrows = Move, climb
1,2,3 = Switch to the blue, red or green man.
C = Toggle between 2 man and 3 man mode
Q = Switch into 2 man mode
TAB = Switch person (according to actually switch mode)
Shift-S = Shift push mode on/off
F5 = Quicksave
F9 = Quickload
Esc = Pause + ingame menu (Continue, restart, exit)
http://www.caiman.us/scripts/fw/f3595.html
= = = = = = = = = = = = = = = = = = = = = = = = = = = = = = = = = = = = = = = = = = = =
When you have troubles, remarks or want to tell us how you solved some levels, please feel free to post it in here
You can help eachother with solving the game. I know the game very well and I also can help, but as I was betatester of this game I may not publish any solution screenshot or walkthrough before December 1st, 2008. But you can do it, in order to help eachother