WOW!! Really mega cool!!
---
- added 4 camera angles
- added 12 puzzles
Missing:
- overall game testing
- 3 puzzles
Attachments

Topdown camera angle
ingame_shot03.jpg (168.86 KiB) Viewed 11295 times
---
Puzzles done
But the overall game "flow" fails me constantly
Tomorrow is gonna be busy day for me fixing the game.
---
WOW!! Well done Jay!!
One of the judges (Geert) is very ill at the moment, so I guess he only can test the entries after this weekend. This means that you still have as few days to finish the game
---
And my entry is done!
Hope you like it! It's 11pm here in Finland right now, and it's time to go to sleep
---
WOW!!! A really beautiful and very addictive game!!!
Not only the sokobanlike puzzle part is great, but the casino part is great as well!!! Fantastic!! Well done Jay!!
Just three questions:
1. Only the shapes nearby the casino are confusing. I can't see where I can stay and where not
How can I know which are the solid places?
2. Is there a possibility to save a game?
3. How can exit the game? (I had to jump into the water a few times to exit the game
)
edit: Found it! It's Q or F12
---
I put your game today on the caiman site
Casino Islands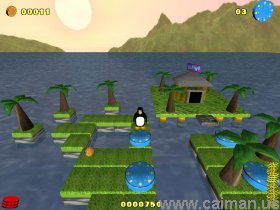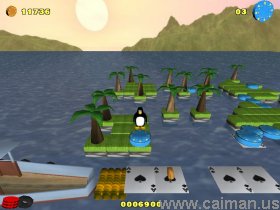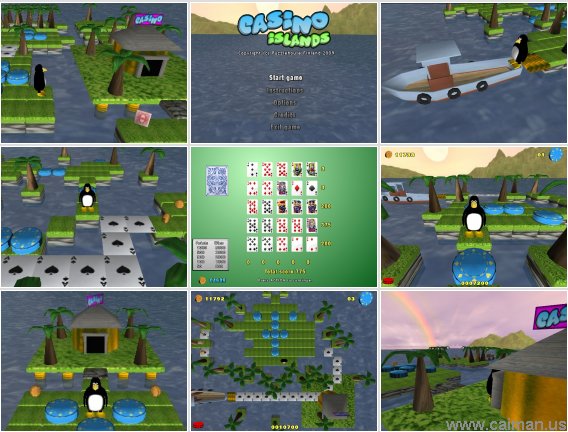 A wonderful and very addictive 3D puzzle / casino game.
The game has 32 unlockable sokoban stylish challenging puzzles.
You can also gamble at casinos around the islands.
You are dropped on the set of islands and your objective is to win and search 52 cards. Along your journey you can gamble in the casino and win some extra chips.
There are gaps between islands so you have to push the big blue chips into the holes and make a solid path where you can walk.
You are also given some big chips in the beginning of the each puzzle so you can drop them down and make a path with them. Each puzzle has it's own "guarantee" chips; in start of the puzzle you have at least certain amount of chips. Think wisely where you drop these chips!
After entering the casino you are giving on screen help for each casino game.
Collect all 52 card, solve each puzzle and you are the champion.
Controls: (keyboard or joystick)
Arrows (or WASD) = Move
Ctrl = Action key (in game: drop a blue chip)
Esc = Cancel key (in game: retry level)
Tab (or backspace) = Change camera view
P = Pause
Q = Quit to menu
F12 = Exit game immediately
http://www.caiman.us/scripts/fw/f3777.html
---
---
Level 17.. but something strange happened: I started today level 17 and now the casino isn't there anymore
And indeed the game saved!
---
---
---
[phpBB Debug] PHP Warning: in file [ROOT]/vendor/twig/twig/lib/Twig/Extension/Core.php on line 1236: count(): Parameter must be an array or an object that implements Countable

Return to "Casino Games Contest"
Who is online
Users browsing this forum: No registered users and 1 guest